Home
Talk

3
383pages on
this wiki
Welcome
Welcome to the Sekirei Wiki
Your personal page for Sekirei information that anyone can edit
(
How to help
-
Top 4 Areas in need of you
)
Sekirei (セキレイ, lit. Wagtail) is a Japanese Manga series by Sakurako Gokurakuin aimed at young men. Originally starting serialization in the seinen magazine Young Gangan published by Square Enix twice a month, on the first and third Friday (first issue in June 2005). An Anime adaptation produced by Seven Arcs and directed by Keizō Kusakawa was aired in Japan between July and September 2008. The second season of the anime aired in Japan from July 2010 to September 2010. Dubbed DVD/Blue-ray editions of the Anime (first and second season) are available in English and German language.
Plot
In the animated series, the story begins during the year 2020, in the Japanese capital city, which has been renamed Shinto Teito. The main character, Minato Sahashi has just failed his college entrance exam for the second time. On his way back to his apartment a girl named Musubi falls out of the sky and lands on him. Shortly after meeting Musubi, Minato learns that she is a special being known as a Sekirei. After letting Musubi stay with him at his apartment, they're both contacted by Minaka Hiroto who is the chairman and CEO of the company MBI. Minato discovers that he's an Ashikabi and learns some details of the Sekirei Plan, which is a competition that is a series of fights between Sekirei.
Contents
We currently have 383 articles. You can help out by editing one of the articles in this wikia.
| | | |
| --- | --- | --- |
| Categories | Featured | Media |
Featured Article
Miya Asama
Miya Asama (浅間 美哉, Asama Miya) is the landlady of the Izumo Inn who is also known as the "Hannya of the North". Due to her fearsome reputation, no Ashikabi or Sekirei have dared to attack Izumo Inn.

Miya is an unwinged Sekirei, as her husband, Takehito Asama, was not an Ashikabi. She is Sekirei #01 and the feared leader of the 'First generation', former Disciplinary Squad, although Miya claimed that she was a completely different person in the past during the time when she served MBI. The one responsible for changing Miya was Takehito, who later on became her husband.
Latest Chapter
Your Voice Calls For Me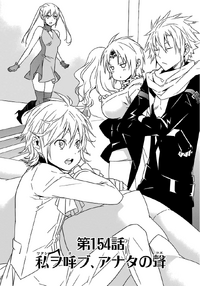 Being moved by Mikogami's sincerity and revelation, Akitsu's crest begins to glow and disappears. Meanwhile Chiyo, Yūna and Hatae have engaged in a battle with Mutsu. Being bored watching from the sidelines Shijime, Kuzuri and Kujika lunge an attack against Himeko. After the crest disappears, a warmth sensation is spreading through Akitsu's entire body, meaning that she's finally ready to be winged.

Affiliations
Get the My Wikia App!

With Wikia's official flagship app, My Wikia, you can search for communities and add them to your home screen and read constantly evolving, deep content in a customizable format.

DOWNLOAD NOW FOR FREE!
Latest News
Sekirei Volume 15 is out in November 2013
Volume 15 will be released November 25 in Japan.
Sekirei Chapter 150 Raw
is released on August 16, 2013.
Sekirei Volume 14 out in March 2013
Volume 14 will be release March 25 in Japan.
Sekirei Volume 13 out in July 2012
Volume 13 will be released July 25 in Japan.
Sekirei Volume 12 out next month
Sekirei Volume 12 will be out October 25 in Japan.
Sekirei on break
Sekirei will be on break in the next 2 issues of Young Gangan. The next chapter will be out September 16.
Sekirei Volume 11 released
Sekirei Volume 11 is available since December 25, 2010 in Japan.
Interested in cold coffee? Check out the News Archive
Featured Image
Akitsu's winging process
Featured Quote
"
Master, I love you. So take care!
"
WikiaAnime Twitter

Poll
Who is your favorite Ashikabi?
Related Sites
Sekirei Manga - Official Japanese Website


Sekirei Anime - Official Japanese Website
Sekirei Video Game - Video Game Official Website
Sekirei Tokyo MX - Tokyo MX Official Website


External Links

Sekirei on Anime News Network - Anime News Network's Encyclopedia
Sekirei on Wikipedia - Sekirei on English Wikipeida
Sekirei Japanese Wikipedia - Sekirei on Japanese Wikipedia