Haihane
Talk

0
383pages on
this wiki
Haihane
(灰翅), also known as the "Blue Sekirei" (蒼い鶺鴒,
Aoi Sekirei
)
[1]
. She is a member of
MBI's
Disciplinary Squad
. After her fight with
Tsukiumi
during the escape arc, she kept a hatred for her because of almost drowning. Her name (hai+hane) means "ash feather".
Appearance
Edit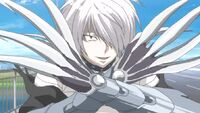 She is a slender female who bandage-wrapped form is covered by a tattered dark kimono, disheveled grey hair, a studded choker, and narrow eyes; giving her a wicked, daunting appearance. Even though she seems dark or gothic, her personality is surprisingly upbeat and calm by contrast to Benitsubasa's compulsive attitude.
Personality
Edit
Haihane is often prone to laughter, to the extent that it sometimes hurts her stomach. She enjoys teasing Benitsubasa about her lack of breasts[2]. She also seems to be a little forgetful, which can lead to self-injury; in the anime, after getting contact-drunk off of sake fumes, she stabbed herself twice in the head after forgetting she was still wearing claws.[3]. She also seems to have some affections for her Ashikabi, as shown when offered to use the Norito and she started to blush and stutter. As a member of the Disciplinary Squad, Haihane is expected to follow the orders of her Ashikabi and the rules of the Sekirei Game. However, she does possess a rebellious edge. During the battle on the bridge, she attacked Haruka Shigi during their attempted escape from the city, despite the rules stating that Sekirei are not to attack humans. Surprisingly, despite her fighting style and acrobatic skill, Haihane admits to being acrophobia (a fear of heights) which causes her legs to shake and constant sweating.[4] Like Benitsubasa, she has acquired a rivalry with one of Minato's Sekireis: the water-controlling Tsukiumi[5].
Abilities and Powers
Edit
Haihane's abilities lie in her speed and weaponry. She wields a specialized pair of gauntlets that are armed with scythe-like, barbed-tipped claws, and metal bracers that shield her arms up to the elbow. These daunting weapons are sharp and strong enough to slice through metal.
Attacks:
Major Battles
Edit
Nothing is known so far from Haihane's past.
References
Edit